Family Owned. Pet Focused.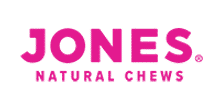 All About Dogs & Cats is proud to carry Jones Natural Chews in Springfield, Missouri. The best cuts of meat also produced the best bones, and word traveled fast that Jones was the place to go for naturally baked dog chews. The first baked dog chews were introduced to the public in 1987.
Dog Treats and Chews
Chews for Dogs: Stuffed Chews
Chews for Dogs by Size: Chews for Small Dogs, Chews for Medium Dogs, Chews for Large Dogs
Jones Select: Organic Recipes, Nutritional Blends, Training Treat Recipe, Exotic Blends
Come visit All About Dogs & Cats in Springfield, MO, "the superstore that loves your pet more".